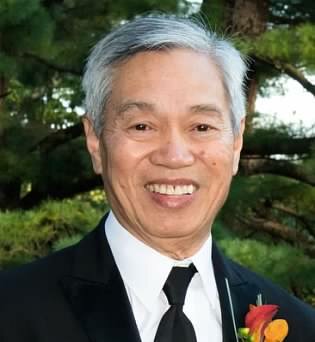 Visitation
8:30 am - 10:30 am
Saturday, April 22, 2023
Wing Fook Funeral Home
13 Gerard Street
Boston, Massachusetts, United States

Get Directions
Interment
12:00 pm - 1:00 pm
Saturday, April 22, 2023
Forest Hills Cemetery
95 Forest Hills Ave.
Jamaica Plain, Massachusetts, United States

Get Directions
Obituary of George Chu
George Song Ngan Chu, a loving husband, father and grandfather passed away peacefully on April 13, 2023,
with his family by his side. Born in Taikkyi, Burma and immigrated to the US in 1971, he is survived by his
devoted wife of 55 years, Angela Chu, and their 5 children Irene, Maylene, James, Suelene and David and 4
grandchildren. He is also survived by his sister Annie and her husband Edward Chan, his sister-in-law Swe
Phing Chu, and many nieces and nephews.
Our dad was love and adventure. Born during the chaos of WWII, our dad and most of his family luckily
survived, but not without harrowing accounts of their narrow escape and tragedies along the way. Arriving to
the United States as a non-English speaking immigrant with a young wife and a 6-month old baby, our dad
consistently put in "125%" effort to seek out opportunities and work hard towards success. After many years
of toiling and risk-taking, he became a respected businessman in the Midwest, which included building a
restaurant and co-owning it with his two brother-in-laws and their families and building a gas station.
Our dad was proud to be known as Mr. "24/7"—the best dad—available any day, at any time, ready to help
anyone to do anything! Our dad relished in getting his hands dirty. He enjoyed tinkering with used cars and
appliances, often disassembling them to repair and rebuild, despite not having any manuals or training. He
loved discussing politics, watching the NBA, and playing basketball with family and friends. He made it a
priority to attend every family event and never missed out on volunteering for the Boston Marathon over the
past 14 years. And even in retirement, our dad did not rest but rather enjoyed helping others through various
local volunteer opportunities. He especially enjoyed biking to the local food pantry to regularly lend a hand.
Our dad's joy and passion was his love for his family. Where he went, we went. Where we went, he went.
Even seemingly routine family things were still a happy and important occasion for him. The prep for dinner
time on a mundane Tuesday evening for anyone, was still a big to do for our dad. While our mom was creating
something amazing for our appetites, our dad insisted on setting the table. But he would also get
entertainingly competitive and equally excited to give us a beat down in UNO afterwards!
Our dad loved seeing the world with us. Five kids squished into the back seat of an old Buick station wagon to
our beige 88 Oldsmobile, with our mom by his side, driving cross country, we would make our annual summer
road trip. He made sure we looked at every tall tree, big mountain and important building. Our dad's passion
drove us to visit all 48 contiguous states in the U.S. He gifted us with a lifetime of golden memories from
building campfires across state-lines; checking out views from above, below and beyond; hiking the scenic
mountains around Machu Picchu; exploring the ancient temple city of Bagan; to horseback riding in Waimea
Canyon.
We hope that you were lucky to have met him, known him, you will have more to add to his story. His riches
were always the people he loved around him. Our dad is on a different journey, without us for now. We wish
him sweet, wonderful adventures until we can travel together again. We will always come back to you Daddy
and we know you are always with us.
In lieu of flowers, we ask you make a donation in honor of our dad to the local food pantry:
Arlington Eats – https://www.arlingtoneats.org/donate-money/
We will have a Chinese traditional funeral service. After the viewing, there will be a procession which will end
at the Southview Terrace of Forest Hills Cemetery for the burial service.
We invite our family and friends for lunch to celebrate the life of our dad after the services:
Saturday, April 22, 2023
Viewing services:
8:30-10:30am at Wing Fook Funeral Home
13 Gerard St, Boston
Procession- taking our dad from his home to his new home:
11am -12:30
Wing Fook to Arlington (Beverly Street and Summer Street) to Forest Hills Cemetery
Interment:
12:30/1pm at Forest Hills Cemetery
95 Forest Hills Ave, Boston
Southview Terrace, Section 16, Lot 11758
Repast- to celebrate the life of our dad:
1:30 at China Pearl, Quincy
237 Quincy Ave
Share Your Memory of
George